Opportunities
We welcome your interest in joining the Sheen Lab.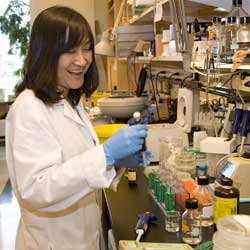 For those seeking a post-doctoral position, please send the following materials:
Cover letter
Curriculum vitae
Publications
Three letters of recommendation
A brief statement of research interests and career goals
Graduate students already enrolled in a Harvard program should e-mail </a href="mailto:sheen@molbio.mgh.harvard.edu">Jen Sheen about doing a rotation.
Those interested in pursuing graduate study in the lab must do so through one of the PhD programs of Harvard University. Please check out the websites about how to apply.
Ph.D. Programs at Harvard Medical School
http://www.hms.harvard.edu/md_phd/
Harvard Medical School offers graduate studies leading to the Ph.D. through its Division of Medical Sciences. More than 450 faculty members are active in the division through five specific programs. These programs combine the faculty and resources of six basic science departments at the School's main Quadrangle, the departments of Biological Chemistry & Molecular Pharmacology, Cell Biology, Genetics, Microbiology & Molecular Genetics, Neurobiology, and Pathology.
HMS

Division of Medical Sciences Programs (Genetics Dept)

Biological and Biomedical Sciences
Other Bioscience Programs at Harvard University
Molecular and Cellular Biology