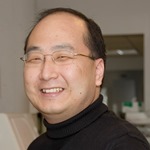 Joung Lab
Joung Laboratory
Massachusetts General Hospital
Molecular Pathology Unit
149 13th Street, Room 6133
Charlestown, MA 02129 USA
The Joung Laboratory develops technologies for genome engineering using artificial "designer" DNA-binding domains. We utilize engineered zinc finger, transcription activator-like effector (TALE), and RNA-guided CRISPR/Cas-based systems to direct specific genomic alterations in living cells and organisms. In addition to developing and optimizing these technologies, we are exploring their applications for biological research and gene therapy.
Joung Lab Team
James Angstman
Graduate Student
Maggie Bobbin
Research Fellow
Peter Cabeceiras
Graduate Student
Oliver Cervantes
Research Technician
Rebecca Cottman
Graduate Student
Stacy Francis
Lab Manager
Jason Gehrke
Graduate Student
Julian Grunewald
Research Fellow
Jimmy Guo
Research Technician
Joy Horng
Research Technician
Jonathan Hsu
Graduate Student
Benjamin Kleinstiver
Research Fellow
Ibrahim Kurt
Graduate Student
Vikram Pattanayak
Research Fellow
Karl Petri
Research Fellow
Kanae Sasaki
Research Technician
Alexander Sousa
Research Technician
Esther Tak
Research Fellow
Russell Walton
Research Technician
Elizabeth Dahlborg
Boston University School of Medicine, Class of 2015
Magdalena Eichtinger
Research Fellow, MGH Neurology
Sandra Fay-Richard
Intellectual Property and Corporate Counsel at Intelligent Medical Devices
Jennifer Foden
Associate Scientist II, Bluebird Bio
Astrid Giesecke
Scientist, GSK (UK)
Mathew Goodwin
Gene Editing Specialist, Transposagen Biopharmaceuticals
Jessica Hurt
Research Fellow, Burge Laboratory, Department of Biology, MIT
Edouard Kengni
Consultant, Bioversity International
Samantha Linder
Graduate Student, MGH Cancer Center
Morgan Maeder
Research Scientist, Editas Medicine
Megan McSweeney
Marketing and Commercial Development, Invitae
Cherie Ramirez
Deputy Director, Global Health Education and Learning Incubator, Harvard University
Maureen Regan
Research Specialist, University of Illinois, Chicago
Jeffry Sander
Research Scientist, DuPont Pioneer
Stacey Thibodeau Beganny
Research Technician, Amherst College
Joung Lab Research
Dr. Joung's research interests include understanding how Cys2His2 zinc fingers, the most common domain encoded in the human genome, mediate specific protein-DNA and protein-protein interactions. In addition, Dr. Joung's lab uses a combination of directed randomization and bacterial cell-based selection methods to engineer artificial "designer" zinc finger domains with desired DNA-binding specificities. The ability to direct functional domains (e.g.—transcriptional regulatory or endonuclease domains) to specific genomic loci using these customized DNA-binding domains will have important applications as tools for biological research and as potential therapeutics for molecular medicine and gene therapy.
Education & Training:
1998-2001 Post-doctoral fellowship, Massachusetts Institute of Technology
1996 Ph.D. in Genetics, Harvard University
1996 M.D., Harvard Medical School
1987 A.B., Biochemical Sciences, Harvard College
Positions:
2009-pres Associate Pathologist, Massachusetts General Hospital
2009-pres Associate Chief of Pathology for Research, Massachusetts General Hospital
2008-pres Associate Professor of Pathology, Harvard Medical School
2007-pres. Director, Molecular Pathology Unit, Massachusetts General Hospital
2007-pres. Member, Center for Computational and Integrative Biology, Massachusetts General Hospital
2004-2008 Assistant Professor of Pathology, Harvard Medical School
2004-pres. Faculty member, Ph.D. program in Biological and Biomedical Sciences, Division of Medical Sciences, Harvard Medical School
2003-pres. Member, Center for Cancer Research, MGH Cancer Center
2000-2008 Assistant Pathologist, Massachusetts General Hospital
1998-2001 Post-doctoral Fellow, HHMI/Massachusetts Institute of Technology
1997 Chief Resident in Clinical Pathology, Massachusetts General Hospital
1996-1999 Resident in Clinical Pathology, Massachusetts General Hospital
Honors:
2011 Appointment as The Jim and Ann Orr MGH Research Scholar
2010 NIH Director's Pioneer Award recipient
2010 NIH Transformative R01 recipient
2009 Honoree, The One Hundred, MGH Cancer Center
2000-2005 NIH K08 fellowship award
2000 Board Certification in Clinical Pathology, American Board of Pathology
1998-2000 Howard Hughes Medical Institute Postdoctoral Research Fellowship for Physicians
1996 Bernard N. Fields Prize in Microbiology and Molecular Genetics (for Ph.D. thesis), Harvard Medical School
1989-1996 Medical Scientist Training Program (M.D.-Ph.D.) appointment, Harvard Medical School
1987 Graduated magna cum laude, Harvard College
Joung Lab News
News and Achievements
Apr. 2012
Joung lab publishes high-throughput FLASH method for engineering TAL effectors in Nature Biotechnology
Jan. 2012
Genome editing with engineered nucleases selected as "Method of the Year" for 2011 by the journal Nature Methods
Dec. 2011
Gene-editing nucleases featured in a news article in the journal Biotechniques
Aug. 2011
Joung lab and collaborators demonstrate disruption of endogenous zebrafish genes using engineered TALENs in Nature Biotechnology
Aug. 2011
Article on engineered TALEN and ZFN technology published in Nature Biotechnology
May 2011
Keith receives The Jim and Ann Orr MGH Research Scholar award
Dec. 2010
Zinc Finger Nucleases spotlighted as a "Method to Watch" for Nature Methods annual "Method of the Year" feature (PDF). Context-dependent assembly paper highlighted in the article.
Dec. 2010
Joung lab and collaborators describe new Context-Dependent Assembly zinc finger engineering method in Nature Methods publication
Nov. 2010
MGH Proto magazine publishes article and editorial on engineered zinc finger technology
Sept. 2010
Keith receives the NIH Director's Pioneer Award
Sept. 2010
Paola Arlotta, Feng Zhang, and Keith awarded NIH Transformative R01
award
Sept. 2010
Joung lab receives Addgene Resource Sharing Award
Mar. 2010
Morgan awarded Manfred L. Karnovsky fellowship
Dec. 2009
Zinc fingers highlighted in New York Times Science Times article
June 2009
Keith selected as one of The One Hundred by the MGH Cancer Center.
Apr. 2009
Morgan awarded National Science Foundation Graduate Research Fellowship
Feb. 2009
PLoS One paper on OPEN ZFNs used to modify zebrafish genespublished
Sept. 2008
Engineered zinc fingers and OPEN covered in Nature news article
Jul. 2008
Molecular Cell paper on OPEN (Oligomerized Pool ENgineering) of zinc fingers published
Apr. 2008
Nature Methods correspondence on modular assembly of zinc fingers published
Mar. 2007
Cherie awarded National Science Foundation Graduate Research Fellowship
Apr. 2006
Cherie awarded Ford Foundation Predoctoral Fellowship
Dec. 2005
Zinc finger nucleases highlighted in Science magazine News Focus article